Having to undergo another lockdown can be difficult on both fitness professionals and gym members. The months away from family and friends can result in mental health issues and poor health habits. But it doesn't have to be all bad. Staying home and being protective doesn't have to come at the expense of shutting off from the world completely. 
There are still things that gym owners and personal trainers can do to support one another, their employees and colleagues, but more importantly — their gym members. 
We recently talked to Guy Griffiths, who's a long-standing coach to independent gym owners and the author of Stick Around, about the challenges gyms are facing because of COVID-19.
Here are some of Guy's tips on how to stay connected with your gym members even throughout the lockdown period. 
. . .
1. Conversations 
According to Guy Griffiths, now more than ever it's important to talk to members, listen to their thoughts and concerns, and make them feel supported.
"I know a lot of clubs have retained their members by just ringing them and saying "How are you doing?" not even talking about the direct debit, or reinstating the membership from freeze or whatever else, but just finding out how people are, having a conversation."
What you can do right now is to reach out to your members and find out how they are doing. Talk to as many of them on the phone if you can (un-furlough, or part-furlough some staff if you need to). 
Alternately, you can include a simple "How's It Going" survey in your email, SMS, or social media posts. All you need to include is three simple questions to help you understand and support your members while you show express that you care for them:
• What are you doing during lockdown to stay active?
• How are you feeling at the moment?  
• Is there anything you need from us to help you?
Open questions are great because you never know what the responses might be! 
. . .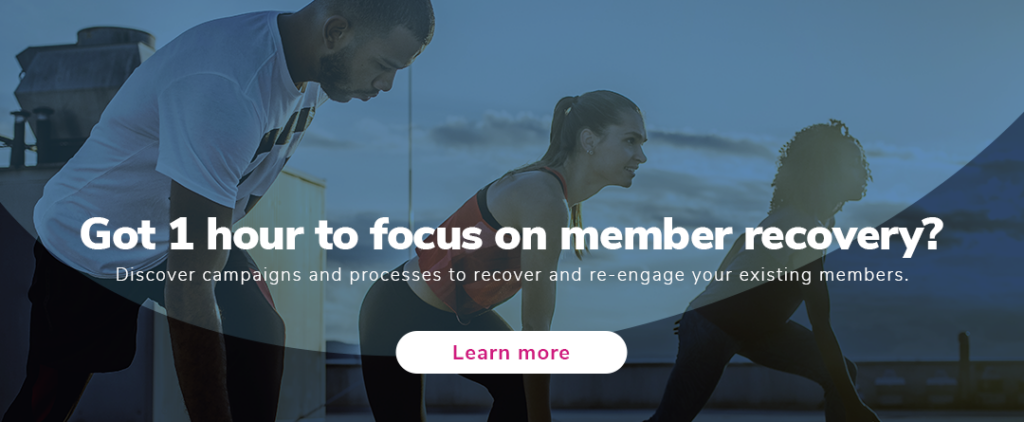 . . .
2. Choice
Having flexible membership perks and offering choice is key to staying engaged with your members. In other words, going digital means making available more than just online classes.
"There's a lot of focus on online classes. But there's a lot more online and digital about digital fitness than just fitness classes, like online coaching and online programmes."
You can support and retain more of your members through lockdown by expanding your options. You could:
• Rent or sell equipment 
• Offer remote coaching
• Deliver online programmes for exercise, nutrition or mindfulness 
• Stream online classes or other types of events 
The more you listen to the thoughts and concerns of your gym members, the more ideas you will have as to how to meet their needs with working solutions. 
. . .
3. Challenges 
Planning your recovery campaign includes communicating to members regularly. We are all in this together, so to speak. A great way to engage members and keep them united during a time of uncertainty and separation is through online challenges. 
Home workouts don't have to be completely disconnected from the physical experience at the gym. They should represent a continuation to the efforts implemented in the past months or years. But how do you create a remote challenge that is exciting and engaging?
"What you want is a challenge that 100 people are completing. Not a challenge that three people are participating in for one winner,"

says Guy.

"Challenges must be inclusive, so as many members as possible doing it, and varied. So something different each month or week, but overall simple." 
While a challenge should have a competitive edge to it, you should focus on rewarding people for completing it rather than winning. As Guy says, "whilst rewards are good, the results are really the rewards."  
Remember that there are different ways to support your members and it all starts with reaching out. 👋
. . .
Listen to the full episode with member retention specialist Guy Griffiths here: